Gaasiturbiinid ja jõujaamad
Camfil Farr Power Systems provides air inlet, acoustic and damper systems for gas turbines and other turbomachinery used in the power generation, oil and gas industries. Our systems have been installed in industrial, desert, offshore, rural and arctic environments.
 Clean air and quiet surroundings improve the environment and increase the well-being and performance of people. Clean air is also highly essential for turbine performance. For more than 40 years, Camfil Farr Power Systems has been developing and supplying air intake systems that protect turbomachinery and help them maintain optimal efficiency. We also provide acoustic and exhaust systems, including dampers and diverters, which reduce noise and ensure high-quality day-to-day operation. Thousands of our installations are used worldwide, 24 hours a day, all year round.
 As a member of the global Camfil Farr Group, Camfil Farr Power Systems has access to the latest filtration technology, allowing us to continuously set standards for engine protection. Our success is based on a development process conducted in collaboration with customers, typically leading OEMs of gas turbines and/or end users in the power generation, oil & gas and process industries.
 Camfil Farr Power Systems operates globally but works locally. We understand your needs – and we speak your language. Typical products include:
 Inlet systems for specific environments to heat and/or chill inlet air to secure and optimize engine performance.
Enclosure & ventilation systems to protect machinery and reduce noise emissions to specified levels.
Exhaust systems to reduce noise and handle thermal stresses and complex flow patterns.
Diverter damper systems to divert and/or seal off the hot exhaust gas in combined cycle installations.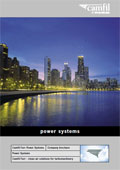 http://www.camfilfarr.com/ps/